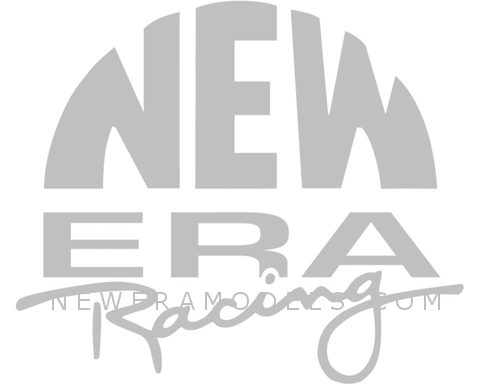 New Era made some really amazing cars and trucks. Many models were created including:
- Monster Truck
- Stadium Truck
- Dune Digger
- Pro Stock Dragster
- Funny Car Dragster
- Top Fuel Dragster
- 32 Hot Rod
- Grand National
- Indy Car
- US super sports cars
*Iroc Z
*Corvette
*Cobra
*Trans Am

New Era Cars and Trucks were all of tube frame construction. Engines ranged from a 23cc standard motor all the way to a monster 80cc Sachs motor! Some cars were belt driven but a majority of the cars and trucks had a very nice rear quick change axle similar to the Skellenger (SEco) rear.

There were various aftermarket parts available through New Era.

-Many engine configurations,
* 40cc 4PS, 55cc 7PS, 70cc 9PS, 80cc,
Conley V8 (Not authorized through Conley)
- Window nets
- Tuned pipe
- Front disc brakes
- Reverse
- Wheelie bars
- Interior kits
- Parachutes
- 2 speed

Unfortunately, New Era no longer sells 1/4 scale cars or trucks anymore even though they list them on their website. Parts and cars have not been available since the late 90's with no real explanation as to why. New Era was known for allegedly copying other manufactures designs and bodies as well as bad business dealings during the time they were building ¼ scale cars. Hopefully, a more accurate and complete history will be added in the future on this manufacturer.

Here are some of the general original specs.
-Centrifugal Clutch that permits easy starts, smooth idling and fast acceleration
-Heli-arc Welded 4130 tubular steel frame, scaled to the last tube
-Frame powder coated black
-Precision ball Bearings throughout
-Kit includes every nut, bolt, washer, radio hardware, fuel tank

New Era has a complete line of great cars and trucks!! The NEM quick change rear is the best axle to come standard in any 1/4 scale vehicle really adding to the value of these machines. I personally believe that the top fuel and funny cars are some of the best looking cars that money could buy, but it's the monster truck and stadium truck that have made them so famous today.